We finally launched the Broville v11 demo in December and the reception has been bretty gud. It has over 1200 downloads which I think is fair for something we didn't promote very hard outside our existing "community".
Progress since the demo has more or less been the same. New things coming up here and there including an entirely new area of town called Braudling County.
Of course an entirely new neighbourhood needed the appropriate infrastructure put in place to access the rest of the city, so a bridge spanning the bay was installed to connect it. The bridge also provides easier access to the airport. Some of you are saying, "Oldshoes, you said there would never be a big bridge!" and you're right, but I changed my mind. Doing it also allowed for this wicked overpass to be made: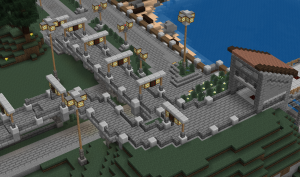 Other new developments include a full Chinatown (at the base of the bridge on the downtown side), a botanical garden, an "Easter Island" inspired island, as well as all the usual new building here and there.