Let me break it down:
I don't know!
Having said that, I'm feeling optimistic that it will be finished! Whenever that may be.
Things are progressing at an acceptable rate. We have the mountains finally coming together (thanks you to yours truly), a large neighbourhood near the university, several large developed ~secrets~, and a surprising amount of interiors complete. There is still a lot to do.
As you can see on the map there's a big empty flat space in the middle of the continent. This is going to be the farm area. Rolling fields of crops, livestock, barns, silos, all that kind of shit. I figure we'll get cracking on that area when 1.6 comes out, adding horses and the hay bail block. We already have a line of rail running through the area that connects to the port to expand off of. There's already a small farm community in a bend in the river that has a few small houses/fields.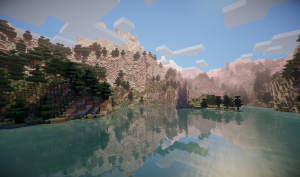 I've spent a lot of time on the mountains. Using Voxel Sniper I've been able to turn the large pile of mashed potatoes that Thoth so nicely put together for me into majestic, sweeping, and breath-taking vistas with wide valleys.
We're not quite there yet, but we're getting closer.
The end is near!