We've been trying out some "brototypes" for the next Broville map we're starting after the 1.3 patch next month.
I decided to move away from the smoothstone frames because they don't, and probably will never, have a slab and stair variation. The stone brick is perfect in that regard. The new coloured wood planks have also added a nice variation in the >square buildings.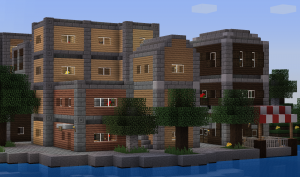 We've been able to add a lot of extra detail with the new aesthetic to create more unique buildings but still keep it looking like "classic Broville".
Almost the entire old crew and a few new people are already on board and with all the new things being added in 1.3 it's going to be the best Broville ever.